There are 5.11 billion unique mobile users in the world, and 3.48 billion people are using social media. Users on the top social platforms keep going up—like Facebook with 2.32 billion active users, Instagram with 1 billion active users, and LinkedIn with 610 million users.
With the increase in the use of mobile devices, businesses are seeing a value to social media as a way to communicate their brand, products, and services. For example, in 2018, social ad spend increased by 32%. Social media is industry-agnostic, and businesses are growing their social presence as part of their marketing plans.
Having managed social media platforms in the Animal Health and Biotechnology industries, I'm a firm believer that social media is a powerful tool for every business because of the 5 reasons below:
1. Brand Awareness
Each public-facing or customer-facing platform is an opportunity to extend a business's brand. Companies utilize social platforms as an extension of their web presence and many use Facebook, Instagram, Yelp, LinkedIn, and YouTube to promote their products, services, and people. Social media allows marketers to share consistent and repeated content to the same audience without being too overbearing.
For example, here are some of the social media posts we shared before our webinar, "Don't Let Content Be Your Kryptonite". We were able to get the word out much more frequently on social media than best practices would have allowed in emails to our list.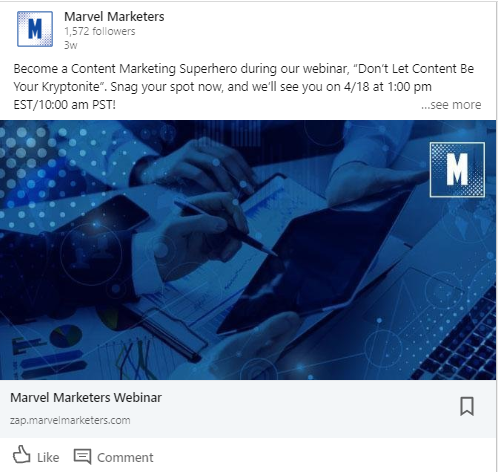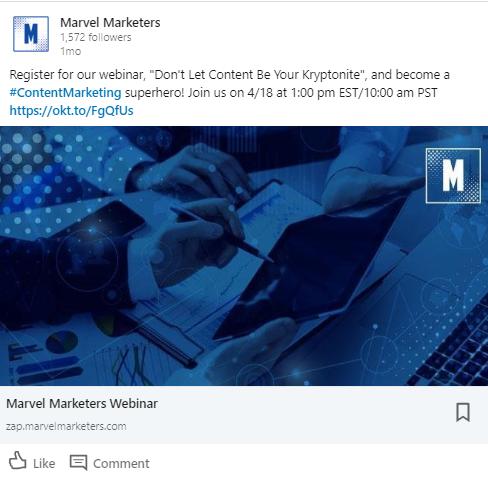 If a marketing post does well, it has the potential to become viral, which can exponentially increase the engagement of the post (either paid or unpaid). And as another benefit, content on a company's social media page benefits its SEO rankings.
2. Lead Generation
The top social media platforms are built to have the best user experience on mobile. Posts are no longer communicated just through text and links. Rather, current platforms offer customers comprehensive tools to meet a business's needs. For example, posts can be automated, tracked (impressions, likes, downloads, clicks, etc.) and targeted. Creative teams are spending more time on how to optimize their company's content through infographics, videos, and visuals that tell stories. All of this effort is done to increase their company's social media engagement metrics and to show ROI. Facebook is a great example of a social media platform with an organized metrics dashboard.
3. Customer Service
For some businesses, customer service teams respond faster via social media. Companies have deliberately made customer support more easily accessible via their social media channels, and some companies have Twitter handles or other social media accounts just for customer support. To extend the company's brand, I've seen companies use social media to highlight customer testimonials and case studies to help promote products and services, along with highlighting their customer satisfaction ratings.
4. Versatile Advertising
Some social media platforms have robust tools that make advertising simple and straightforward. Current social media tools allow for businesses to be flexible on spend, automate ads, target and retarget prospects and customers by vertical, and view and report ROI via dashboards.
5. Increase Website Traffic
Social media is a great way to promote content and drive traffic to a company's website. Businesses host a ton of relevant content on their websites and spend hours optimizing it. Any time there is new content to share with prospects and customers, businesses have a way to help increase the number of visits and engagement on their websites. Examples of relevant content are events, whitepapers, newsletters, webinars, campaigns and customer testimonials.
Current advances in technology have made using social media a lot more feasible for marketers across different industries and regions. Although social media platforms have their limits, such as capturing the lead journey, in time, there will be solutions to these limitations. Today, social media platforms empower marketers to automate and track their posts with very little training or experience. Mobile use continues to increase, and companies like Samsung, Apple, and Google are launching more powerfully built mobile devices with multiple capabilities similar to a desktop. For this reason, social media as a marketing channel is no longer a new concept for business and must become an integrated part of a company's strategy.