How well do you understand your best customers?  It's a simple but loaded question.  
Businesses spend a considerable portion of their budgets every quarter trying to get "more better data"–not grammatically incorrect here, think quantity and quality! They want great data and lots of it. In my previous blogs, I talked about the importance of Keeping Marketo Healthy and how to Sync (Marketo-Saleforce) The Right Way, but today I want to focus on how mature businesses successfully keep their systems in control by managing their data effectively and keeping clean organized databases.

More data does NOT mean better data
I've encountered businesses and teams who think that a new list of names or accounts will automatically create a better understanding of their target market landscape. However, even if you run through your normal checks (like deduping and cleaning up a list), the quality of the list is not guaranteed.  Even with end users who submit their own information on marketing, web, or product signup forms, there is a probability that the information that they submitted is true or error-free.
Lead quality is always an issue in any database, whether it be from users who submit their own personal information or data from more "3rd party" sources. To ensure minimum lead quality, it requires periodic evaluation and ongoing maintenance for all lead sources.  A comparison of the Marketing ROI across different lead sources will quickly show which of those sources result in the highest value to the business.
In any database, database maintenance is not pre-built into most of your systems. For example, Marketo will automatically dedupe records by email address in your database, but it doesn't really do anything after that. It purposefully allows internal users to create their own triggers to manage their data that is customized for their own instance–really their own business needs.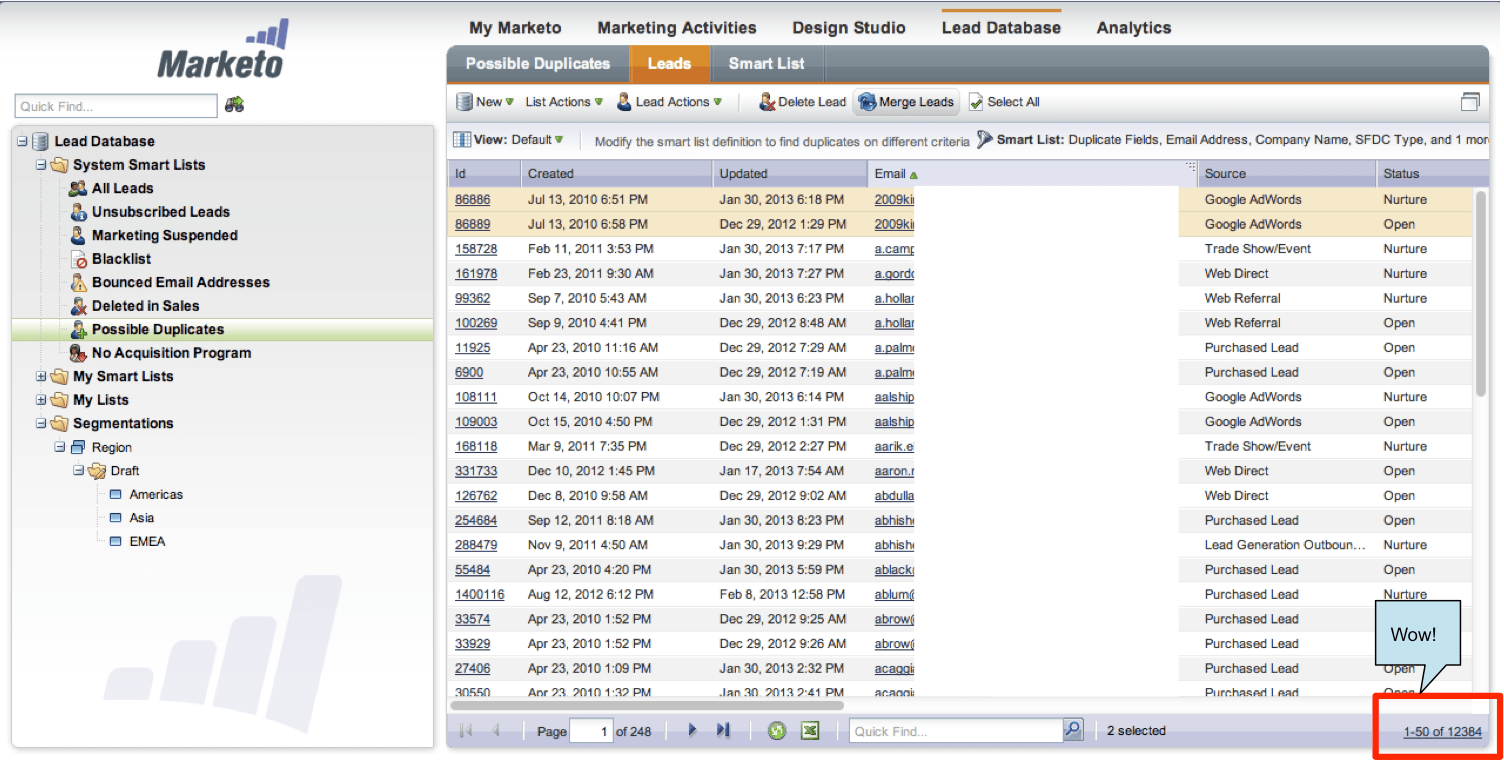 Assuming every form submission or list upload meets your initial systems requirements, it still behooves system administrators to do the following quality control within your database:
If data is wrong in a certain field, then clean the record or remove it from your database

If data is missing in a certain field, then "enrich" it using 3rd party data, either manually via sales or through some automated process
Classification is sometimes underrated
After talking with customer success and sales teams, marketing should have a good idea of what market niche(s) they should target. However, it needs to be defined in roughly the same way that they capture information in their database and other systems. Marketing needs to do the following:
Review which database fields are relevant to the business 

Possibly reclassify and update their data to provide a better understanding of their target market
The most common example is when businesses classify companies and accounts in their CRM according to which sectors, industries, sub-industries, etc. that they belong to. One business may want to closely monitor <industry> field in their database because it has sales teams that special in entire industries, while another business specializes more at a sub-industry or even product level, because they only operate in one main industry, such as biomedical devices or mobile gaming. Businesses periodically need to spend time reclassifying data and revising fields in their systems, along with adding new names and accounts to their database.
Key takeaways
Your ability to understand your ideal customer is determined, in large part, by the data you feed into your systems and how you organize that data. The more data you have, the more automated processes that you will need to have running in the background. You will need to periodically review these processes, to ensure ever-increasing data quality. Occasionally you should review your key reporting categories so that you are getting meaningful information–the type of information that will lead you to best understand who your target customer is!