Marketo is a big investment in both money and time, but once you get it up and running, it has the power to generate a big ROI.
In order to get the most out of it, there are a few details you need to be aware of when you're setting up your instance. Let's dig into them so that you don't miss out on anything that Marketo has to offer.
CName
What is a CName?
A CName is basically an alias for your website's URL that ties your Marketo landing pages to your website. So instead of your landing page being www.marketo.com/why_eat_grapes, It will be www.go.mycompany.com/why_eat_grapes. "Go", in this case, is the CName.
What is a good CName?
The trick is to keep the CName short, sweet, and to the point–like go.yourwebsite.com, pages.yourwebsite.com, and info.yourwebsite.com.
What is a bad CName?
There are a few CNames to avoid using in Marketo such as Marketing.mycompany.com, sales.mycompany.com. While these may seem like reasonable CNames, they look a little spammy and can turn leads away quickly.
What's the benefit of a CName?
CNames ensure consistent branding while also helping to improve your traffic and conversions. As a potential customer, would you be more willing to fill out a form on a page that's name was randomly generated by Marketo, or would you feel better if the name was associated with the website?
How soon should you create your CName?
You should set up the CName when you first get Marketo. The CName is set up in Admin → Landing Pages → Domain Name.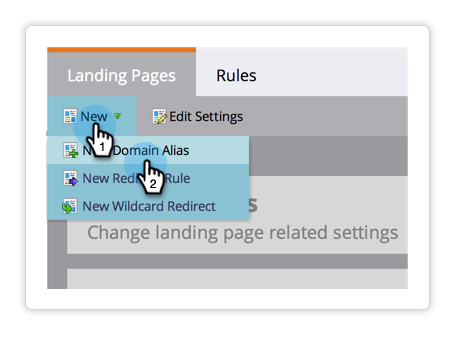 If you don't have Admin access, you'll have to contact your Admin (typically that's your IT department) and request a particular CName to link to a specific account string: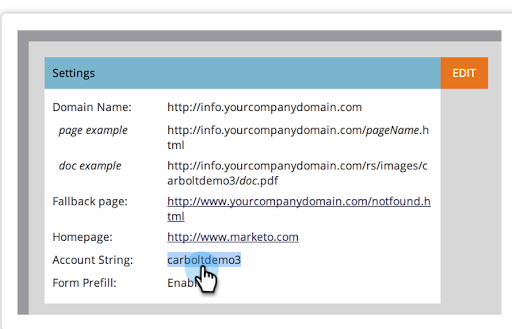 Default Email Addresses
It's already tough enough to stand out in leads' inboxes, and sending out emails from the wrong address makes it even harder to convince people to open them. That's why it's so important to update your default email address when you first activate your Marketo account.
What email address is listed in the beginning?
Right out of the box, your Marketo default email address is the email address that you used to create the account. However, in the vast majority of cases, this is not the address that you actually want your emails to be sent from. Luckily, changing your default to a different email address is easy to do in the Admin section.
How do you make the change?
To update your default email address, go to Admin → Email. In the Settings area, you can choose the "From" email and "From" label. This will be the email address that appears in any new emails you create: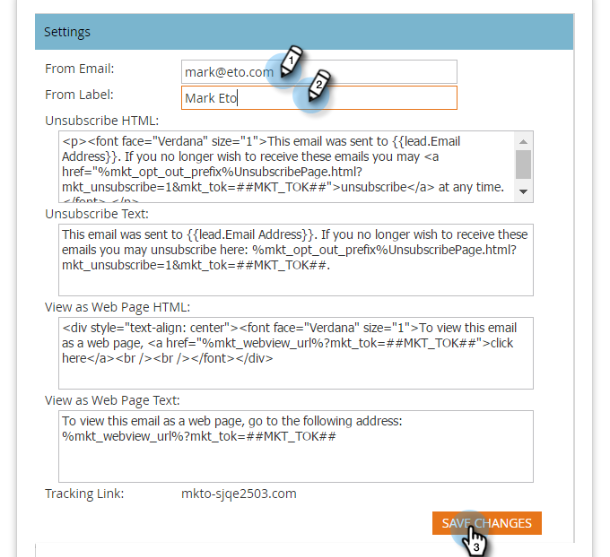 Why is this so important?
In addition to making sure your recipients see the proper email address in their inboxes, updating your default email address means you don't have to fill in a sender address every time you send an email. Not only will this save you time, it will also help reduce the risk of errors. However, if you have a one-off email that needs to be sent from a different email address, it's easy to change.
Tags
What is a tag?
It's a way to categorize your Marketo programs for reports. Specifically, you can use them to organize your Program Performance Report. With tags, you can pull a report to see how Product A is performing vs. Product B, or you can see how different sales regions are performing, etc.
What are the most useful tags?
Campaign Owner, Product, and Region are all common tags used to categorize programs.
What's the biggest benefit of using tags?
Tags will take your Marketo Reports to the next level and provide you with the data you need to make sound business decisions.
Where are the Tags in Marketo Setup?
Tags have to be created in the Admin section of Marketo. Specifically, go to Admin → Tags → New → New Tag Type. Once your tags are set up in Admin, they can be added to any program created in Marketo through the program setup: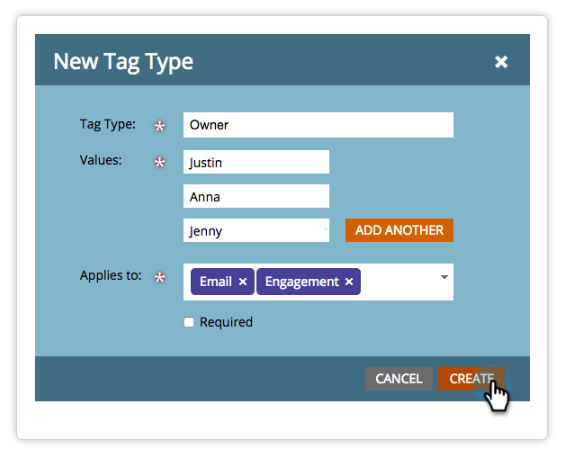 Taking some extra time to set up these details will pay off in the long run. Not only will you get a more customized Marketo experience, you can also dramatically improve your reporting, prevent errors, and boost your conversion rates.