If you've ever bought or signed up for anything online, you've received a transactional email. Things like order confirmations, account creation confirmations, and shipping confirmations are all vital responses to doing business on the web. They're so vital, in fact, that they receive 8 times as many opens as "regular" marketing emails.
With all of those extra opens, wouldn't it be nice to get some extra engagement out of them? 
Transactional emails can be a valuable tool for building relationships and boosting revenue, but most organizations overlook them. Here are 4 ways that you can buck the trend and take full advantage of them:
1. Provide extra information
Let's say someone just bought one of your custom tea sets. You could simply send them a transactional email that says you received their order and they'll be notified as soon as it ships. Or, you could add something extra to those details. 
For example, provide them with a link to your new recipe book and say "While we process your order, take a look at our new book, Tea Time Snacks Are Tasty Anytime. It's got all kinds of unique twists on traditional tea snacks, like scones and finger sandwiches." Just like that, you have a new opportunity to make a sale.
Amazon does a really good job of this without making it look or feel like a hard sell. They simply tell you about the other products people bought after purchasing the same thing you just did: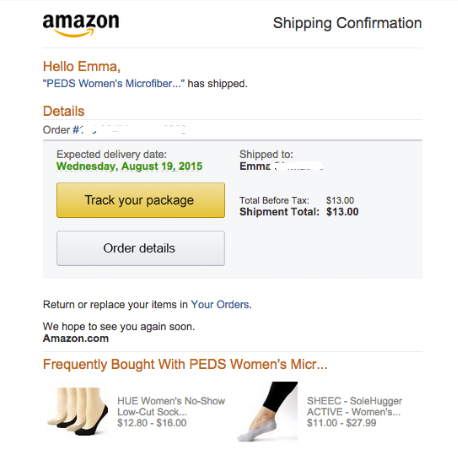 If you don't want to blatantly sell anything, you can still use your transaction email to boost your relationship with the reader. For example, direct your custom tea set buyer to your blog posts about the history of afternoon tea, table decorating ideas, and fun ways to introduce your kids to tea time. Now, you're not just a tea set seller; you're also an expert on the entire hobby. The next time this buyer needs something, she's much more likely to remember you.
2. Give a gift
This doesn't have to be expensive. For example, include a discount code that the buyer can use on his next order–which immediately creates an incentive to do business with you again. Or, offer the buyer a referral bonus if he convinces a friend to do business with you. With offers like these, you can end up with revenue you wouldn't have gotten otherwise.
Some gifts can be free! For example, attach a copy of your "Getting Started" manual to your transactional email so that the buyer is ready to go as soon as his order arrives. 
3. Spur your account creators into action
Every time someone creates an account on your website, it's a clear sign that they're thinking about doing business with you, so why not speed up the process? For example, in their account creation confirmation email, include pictures of your most popular products with a CTA button at the bottom that says "Shop Now." It's like sending them a mini version of your catalog!
4. Encourage replies
Most transactional emails come from a "no-reply" email address, but how is it helpful to show your buyers and subscribers that you have no interest in hearing from them? Instead, use a "reply-to" email address so that buyers and subscribers have an easy way to contact you with questions or feedback. And to kick the engagement up a notch, point out your "reply-to" email address and encourage them to reach out!