Is there anything more groan-worthy than trying to come up with perfect subject line? This is your one chance to make the perfect first impression, but you only have a limited number of characters to work with and there are a million other emails competing for attention in your subscriber's inbox. Without a great subject line, your emails will never get opened—and if they never get opened, they'll never get clicks.
The best way to tackle all of this subject line stress? Split-testing. To create split-tests that generate actionable results, follow these 3 tips:
1. Have a concrete question that you want answered
You can't get answers if you don't know what the question is! For example, do your subscribers prefer shorter or longer subject lines? Or, do your subscribers engage more with subject lines that are posed as a question? Or, does using the recipient's name in the subject line lead to more opens? You may have hypotheses about all of these factors, but the only way to truly get answers is to test.
2. Don't forget about statistics
If you're like me, you didn't particularly enjoy statistics class back in the day, but statistics are the lifeblood of subject line split-testing. Here's why:
You need an audience that's big enough to generate statistically significant results, so if you've only got 100 people in your database, wait on the split-testing. The larger your audience is, the more accurate your results will be.

Even if you have a large list, you need to know if your winning subject line is a true winner. For example, if Subject Line A had a 5.1% open rate and Subject Line B had a 4.9% open rate, there's no statistical significance there. In other words, the results are too close to determine a REAL winner. Need help determining if your results are significant? Use a calculator

like this one

: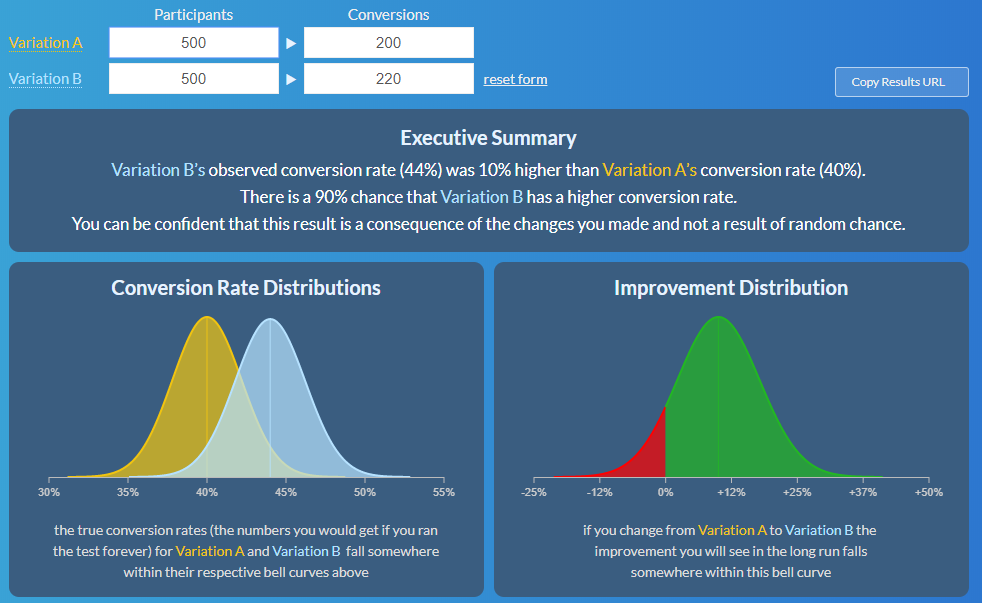 You need to decide how much of your audience to test. Sure, you can do a 50/50 split–meaning that half of your audience gets one subject line, and the other half gets the other subject line. Or, you can test a portion of your audience and then send the winning subject line to the rest of your database. For example, we've run tests for clients in which 25% of their database got subject line A, 25% got subject line B, and then we waited 4 hours to see which subject line won. Once we determined a winner, we sent it to the remaining 50% of the database. This is great for a one-time email, like a blast to about your current flash sale, because you don't get a do-over. You need to make the most of the blast right now. 
3. Get as precise as possible
Every audience is different, and the goal is to learn as much about YOUR audience as you can. While you may discover that your audience prefers subject lines that are questions over statements or that personalized emails get more opens, dig deeper. Here are some ideas:
Short vs. Long

– "Our flash sale starts now!" vs. "Today only – save up to 75% in our flash sale"

Authoritative vs. Helpful

– "All of your marketing strategy questions answered" vs. "Need help answering questions about your marketing strategy?"

Personal vs. Non-Personal

– "5 tips to help you get rid of belly fat" vs. "5 tips for eliminating belly fat"

Word Order

– "Webinar invitation – get our insights on car insurance" vs. "Learn about the newest car insurance deals at our webinar"

Positive vs. Negative

– "25% of businesses enjoy a successful migration to the cloud" vs. "75% of business fail at migrating to the cloud"

One Topics vs. Several Topics

– "Check out Kim Kardashian's favorite diet tips" vs. "Kim Kardashian, The Rock, and David Beckham top this month's newsletter"