You've spent so much time and money building your Marketing Automation Platform (MAP) infrastructure, but is it doing what you expected?
Over time, even the most operationally-sound ecosystems see hiccups, redundancies, and gaps – perhaps you have prospects that haven't been nurtured in some time or API connectors on top of API connectors competing with each other. Quite commonly, as changes occur in marketing staff and lead processes, some automations become a mystery … no one can quite recall their initial purpose! 
Just as you don't plant grass and simply watch it grow, every Martech stack ecosystem requires ongoing optimization to keep it in pristine condition. Otherwise, you may find yourself troubleshooting issues more than creating new innovations..
You probably need to run a full health check of your systems if you have ever said anything like: 
"Every time we build a new program, something else goes wrong"

"I cannot name all the tools connected to my system"

"We have constant errors with our SFDC sync"

"I can't accurately measure my contribution to pipeline revenue"
Take special note if you ever answer "because we've always done it this way" when asked why something is happening. 
Ultimately, you want to be positioned so that your system scales and matures with your revenue growth and complexities. I have seen many types of inefficiencies while performing health checks, like:
Broken APIs or 3rd party tools with ongoing costs

Unintentional latencies or inaccuracies in data flow

Inefficient manual processes working as band-aids

Erroneous processes running that have gone unnoticed in the background

Once you know what's "broken," you can focus on fixing it and begin driving a positive impact for your business. Harmony comes from striking a balance between scalability for the future, governance for long-term stability, and efficient processes for your teams. You want to know that you can handle 10x more business tomorrow and that marketing can be attributed to a significant portion of your revenue, which justifies the spend.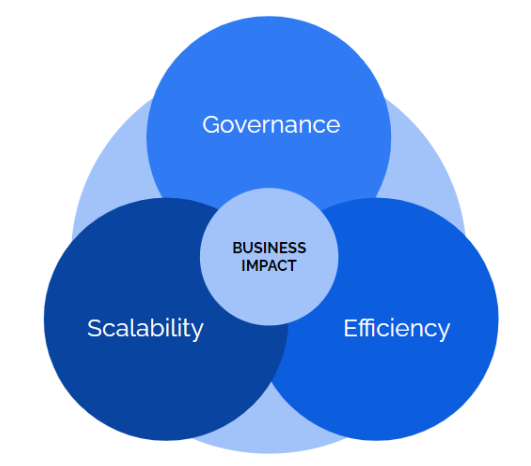 So how do you achieve this harmony?
A comprehensive audit of your Automation Platform will reveal the blockers, and should provide a roadmap toward achieving this balance, which sets the stage for accurate revenue attribution to help justify platform spending. The areas of a Marketo audit, for example, should cover the following: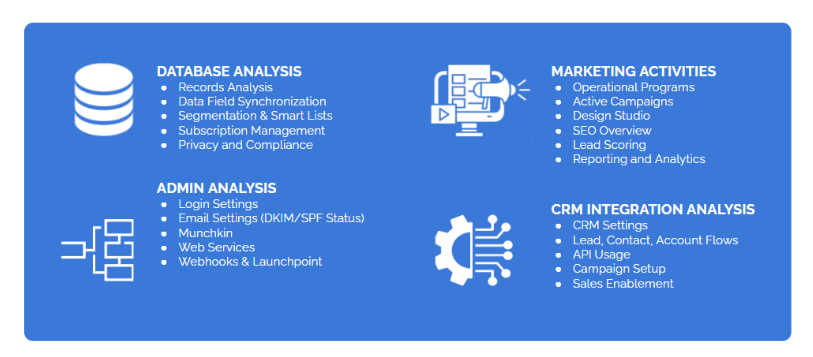 Every Marketing Automation Platform installation has a unique fingerprint, however. The discovery and analysis portion of an audit require deep technical AND business strategy chops to accomplish. You must receive a systematic review of every key data point including:
A full accounting of your existing MAP ecosystem setup, connections, and data flow

Detailed documentation of issues and causes

Actionable recommendations on how and when to fix those issues

Steps to further plan a mature instance that can scale with you
PRO TIP: 
Repeat your analysis annually to ensure that your systems are keeping up with business requirements.
__________________________________________________________________________________
Our MAP Health Audit covers every corner of these needs, as well as categorizes all of the things you can do by level of effort and size of business impact. We provide the key for the short and long-run to build a mature, scalable and efficient instance, controlled with governance, rendering your entire workload more efficient. Contact us for more information about our unique Audit Health Check practice.