Google says: "It takes 5 years to get to know someone".
That's the first option that pops up in Google's search box when you type in "It takes 5 years to".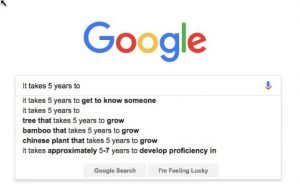 Why am I searching for such a phrase?
It is Marvel Marketers' five year anniversary (Happy Birthday to us!!), and I wanted to know what other amazing things take five years to do.  
But there's actually a more compelling a question to ask – What have I learned about Marvel Marketers in the last five years? Or more importantly, what have we come to be KNOWN for in our five years by you, our industry friends?
In the past five years, we have been KNOWN to…
Dominate the domain in terms of our expertise. We are your marketing heroes.
As a Platinum Marketo Partner and a Strategic Engagio Partner, no problem is too complicated, too tangled, or too new that we don't have a line of experts clambering to solve them. We have an aggressively growing Content Services team, a fast-growing Experience Management team,  and our Training Academy extends our expertise into the ecosystem.
We take full responsibility and accountability for being a thought leader worthy of following. Stay tuned, because the best is yet to come!
More importantly, we abide by the rules which govern superheroes. (Yeah, we have rules, too.)  We have this set of rules hanging in our office: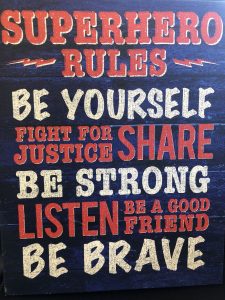 We find a lot of the things we are known for are because we follow these rules!  
Superhero Rule #1:  #BeStrong
In the past five years, we have been KNOWN to…
Build the most epic of teams.
Our team is so epic that not only are our current employees amazing, most of our past employees continue to evangelize and extend our brand far into the reaches of the industry.  We even have interviewees who have continued on to champion for us! Our Superheroes simply turn into our Superfriends. #saygoodbyecorrectly #everyoneisimportant
Superhero Rule #2: #Share #Listen #BeAGoodFriend
In the past five years, we have been KNOWN to…
Gracefully (hopefully) overcome every obstacle. AKA learn–and fast.  
Here are a few of those lessons for those of you enamored with the glamour of entrepreneurship:
Learn how to hire

Learn how not to hire

Learn how to scale

Learn how to say goodbye when you don't want to

Learn how to create Win (Clients), Win (Employees), Win (Marvel Marketers) scenarios

Learn how to partner (still working on this one!)

Learn how to course correct, again, and again, and again

Learn how not be perfect (this is a hard one for us)

Learn how to celebrate (we don't always remember)

Learn how to be patient

Learn how to come to terms with others' transgressions

Learn how to feel flattered when folks begin to emulate you

Learn how to say no a lot

Learn how to say yes to the right things

Learn to say thank you for all the accolades

Remember (we already knew how) to remain constant in humility and gratitude.
Superhero Rule #3: #BeBrave
In the past five years, we have been KNOWN to…
Do things our own way.
Everyone is always shocked when I tell them we don't have a dedicated marketer or a sales team (yet!). I constantly get asked where our success comes from, and frankly, it's such a simple answer. It comes from doing the right thing by our clients… every time.
Our success comes from not worrying about what others are or are not doing. We focus on ourselves, our own quality, our own footprint, and our own goals. Leaders have to turn around to see what everyone else is up to. That is just not our style. We look forward, we innovate, we create, and we are thankful for the opportunity to do so.
Superhero Rule #4:  #BeYourself
In the past five years, we have been KNOWN to…
Remain ever so grateful. I deeply hope that is what you know us for.
It is very important to us at Marvel Marketers that we lead. We don't wait around for someone to tell us what to do next. If we want to do something, we go for it.
We have a thirst for truly being heroic in our day-to-day jobs, and we want everything we do to matter beyond just ourselves. In honor of our fifth birthday, we have created something big that will take our work beyond the marketing world and make an impact on the people who need it most. Stay tuned… The details are coming soon!
Superhero Rule #5:  #FightForJustice
With that, friends of ours in the industry, we thank you for your constancy, your support, your words of wisdom, your loyalty, and for trusting us with your business. Here's to the next five years!
Humbly yours,
Maneeza and her epic team of superheroes